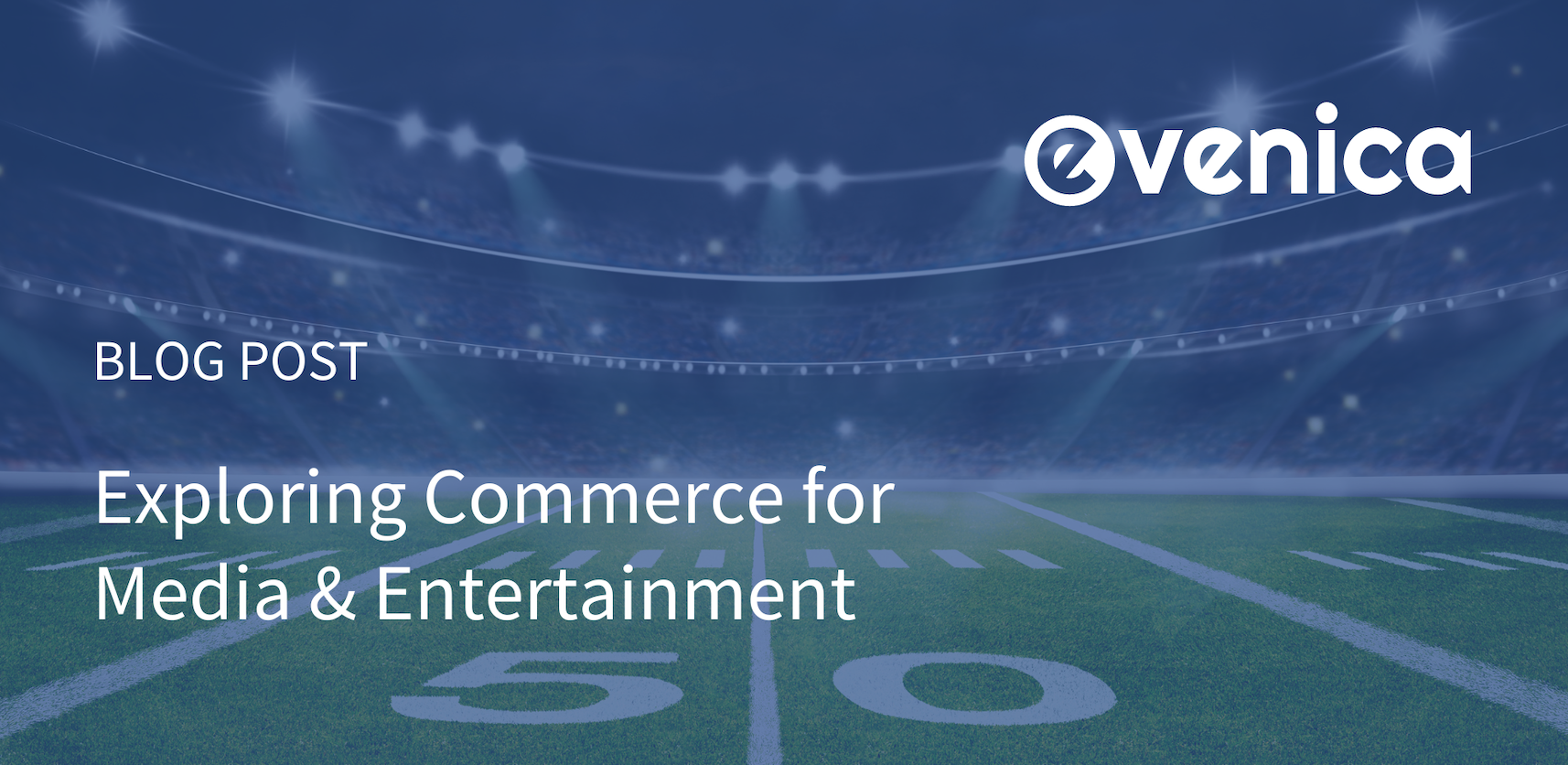 Years ago, we referred to the "second screen" as a mere phenomenon in media and entertainment. Today, customers make use of devices to engage with entertainment providers and events in all sorts of ways, from answering polls, tweeting, supporting charity efforts, buying merchandise, and even purchasing their season tickets from a branded app.
Having a custom e-commerce solution in place to support all of this commercial activity helps brands stay connected to consumers while creating new opportunities for sales to be made. Given the complexities of media and entertainment, the large audience sizes, and the importance of the fan experience, it is especially important that any e-commerce solution implemented be sophisticated and robust.
Enter Dynamics 365 Commerce – a powerful e-commerce platform within the Microsoft ecosystem. With Microsoft technology in place, media and entertainment brands can offer intelligently personalized merchandise, create special moments for fans, and consolidate technology vendors.
Smart Merchandising
"How did you manage to spend $250 at the game?" Dave's wife asked. "We have to save for our vacation!"

Dave rubbed the back of his neck. "Well, you know that one new player I've been talking about? He scored his tenth touchdown of the season, and the app on my phone was giving me a discount on his jersey."

"The app on your phone?"

"Yeah, it's where I get my tickets. It's linked with my credit card," said Dave.
Part of the reason that people flock to entertainment brands is to get caught up in moments and movements. Historically, many brands, especially sports teams, have had to rely on in-person channels to move product. With e-commerce, it becomes possible to reach fans during the moments they are most engaged with your brand – following a goal or touchdown, or after the accomplishment of a milestone like making the playoffs. With the right product offering, these moments can turn into profitable ones for your brand.
Giving fans the ability to transact through their phone not only creates new opportunities to sell, it simplifies the in-person experience. Being able to skip the payment process at refreshment stands, buying swag that will be shipped directly to their door, and having access to other perks will make for a happier fan. Having an e-commerce solution provider capable of creating these sophisticated experiences is very important, as glitches or hangups at the end user level instead creates a negative experience instead of a positive one.
Creating Special Moments
Raquel put down her phone and called her kids over. "Hey, I have a question for you two."

"What is it?" her oldest asked in reply.

"Next Saturday, there's a meet and greet with the football team at the stadium. We got invited! Do you wanna go?"

Raquel's kids became very excited. "You mean we get to meet the players? That's so cool!"
One advantage of e-commerce is that the data generated by transactions is easily connected with a CRM – especially when everything is based within Dynamics 365. Being able to view individual fans and their history with the brand – ticket purchases, merchandise purchases, and even social media engagement – allows brands to reward their best fans with special offers.
Making each member of your audience feel special and cared for is one of the best ways to build brand loyalty. Tying these efforts to your app or digital portal is a way to drive and reward engagement in ways that fans love. Doing this reliably will require a sophisticated system like Microsoft's cloud solutions for media.
Consolidating Vendors
In our work with entertainment brands, developing a custom e-commerce solution using Microsoft technology usually simplifies the brand's technology stack considerably. Many brands currently use different vendors and different apps that don't always work together well, problems that don't exist in the Microsoft ecosystem where everything is integrated. This can reduce costs, make internal processes more efficient, and set the foundation for an ambitious fan engagement strategy.
Creating Sophisticated Brand Experiences
Evenica has developed integrated e-commerce solutions for many media and entertainment brands, helping them deliver sophisticated omnichannel experiences that support new kinds of transactions and interactions. We specialize in Dynamics 365 Commerce and offer our own e4Commerce and e4Integrate platforms.