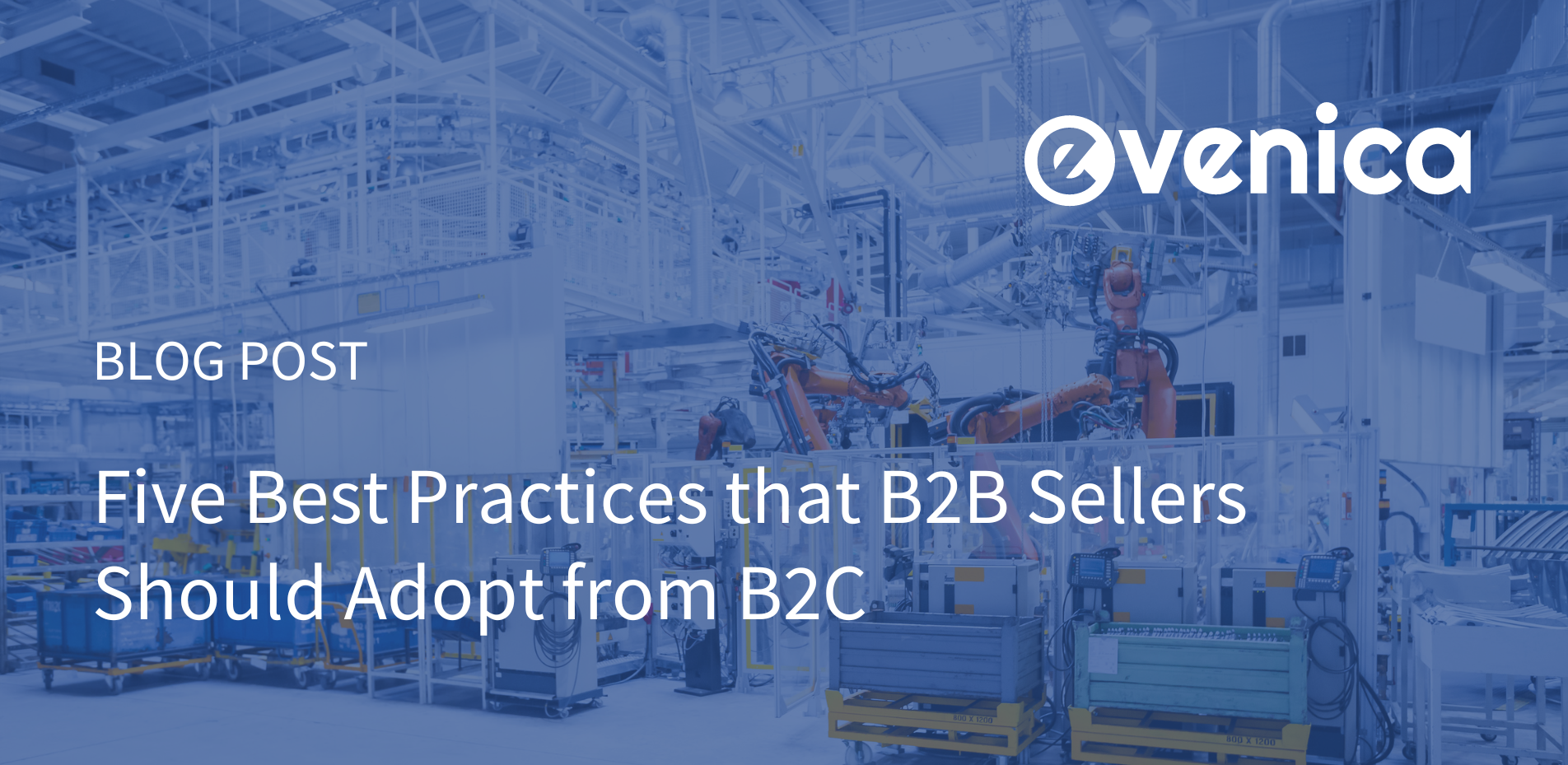 The pandemic left many retail locations unable to serve customers traditionally. There has been a tremendous shift to e-commerce in almost every sector. From small businesses moving to online orders to corporations conducting high-ticket sales meetings over Teams, the nature of the buyer-seller relationship has changed dramatically over the past few years in both B2C and B2B.
Recent research shows that when interacting with potential vendors, B2B customers have adopted similar online tastes and preferences as B2C consumers. Today's buyers now expect a seamless experience when shopping for gaskets or sensors, much in the same way that major retailers make it easy for consumers to discover and purchase clothing. Although this rapid shift in B2B buyer preferences presents many challenges for businesses, the truth is that B2C sectors have already developed many best practices that are highly relevant to B2B.
#1 – Creative In-Person Activations
Before the pandemic began, brick-and-mortar locations were already struggling to compete with e-commerce-enabled giants like Amazon. However, one innovative way that B2C brands like Kylie Cosmetics and Pantone have maintained physical relevance is through pop-up retail locations with limited-time availability.
One way that B2B could deploy this tactic is by moving product launches from the PR desk to an in-person location, complete with demonstrations, product engineers, and in-person interactions. Clever businesses engaged in account-based-marketing may find a retail location close to the headquarters of their target accounts and create an activation just for the employees of that company – where there's a vacancy sign, there's a way.
#2 – Outstanding Customer Care
Whereas most B2B sectors maintain some kind of personal relationship between buyer and seller, usually through an account manager, B2C brands have had to become very intentional about every single customer touchpoint in order to maximize their chances of getting and keeping customers. Even the most innocuous interactions, like an order confirmation email or a shipping update, are opportunities to deepen relationships and nudge customers towards further transactions.
Perhaps one of the more well-known examples in the B2C world comes from Derek Sivers, founder of CDBaby. He recounts how adding more personality to otherwise-routine email updates created an extraordinary amount of buzz, customer loyalty, and brand affinity. This year might be a good time to review all of your customer touchpoints and how they could be more informative, entertaining, or interesting to your buyers.
#3 – E-commerce and Social Media
The vast majority of interactions happening online today take place, of course, on social media, which has driven many B2C companies to take advantage of the e-commerce capabilities offered by Alphabet, Pinterest, Meta and other tech giants. Over the past few years, customers have become more comfortable with completing transactions through places like Instagram, and entire B2C industries are now built on the mystical and profitable "impulse purchase".
Although it is very unlikely that B2B buyers are going to be making purchase decisions based entirely on impulse, it is important to consider how your business can offer consumers new ways to make transactions. One of the most ambitious executions we can think of is a custom e-commerce solution that integrates with Microsoft Teams, giving your sales reps the ability to drive transactions within sales calls, simplifying your buyer's path to purchase, and bringing the "deal on a handshake" tradition to e-commerce channels.
#4 – AI-Driven Product Recommendations
Perhaps the greatest strength of modern artificial intelligence is its ability to sort through large sets of data and find patterns that humans would have otherwise missed. Deploying AI within an e-commerce solution provides your buyers with a helper that can suggest new products, auto-complete regular orders, and ultimately drive new sales in a way that is helpful, informative, and completely automated.
More than any other kind of modern business technology, artificial intelligence is proving to be one of the most disruptive, as well as the most powerful. Regardless of how you plan to deploy AI in your business over the next year, it is important that you stay aware of what is possible with the technology and what value it might bring to your sales process.
#5 – Sustainability
As many countries continue to shift towards more environmentally sustainable practices, consumers and investors are beginning to treat a company's sustainability track record as part of their value proposition. Being conscious of this, and how your business communicates these things throughout your ecommerce channels, will not only support a good perception of your organization, but might even help you deepen relationships with clients who integrate sustainability into their buying practices.
Delivering Exceptional Customer Experiences
Evenica specializes in developing custom e-commerce solutions that deliver sophisticated customer experiences. We have worked in many different industries and offer custom Microsoft solutions as well as our own e4Commerce platform.