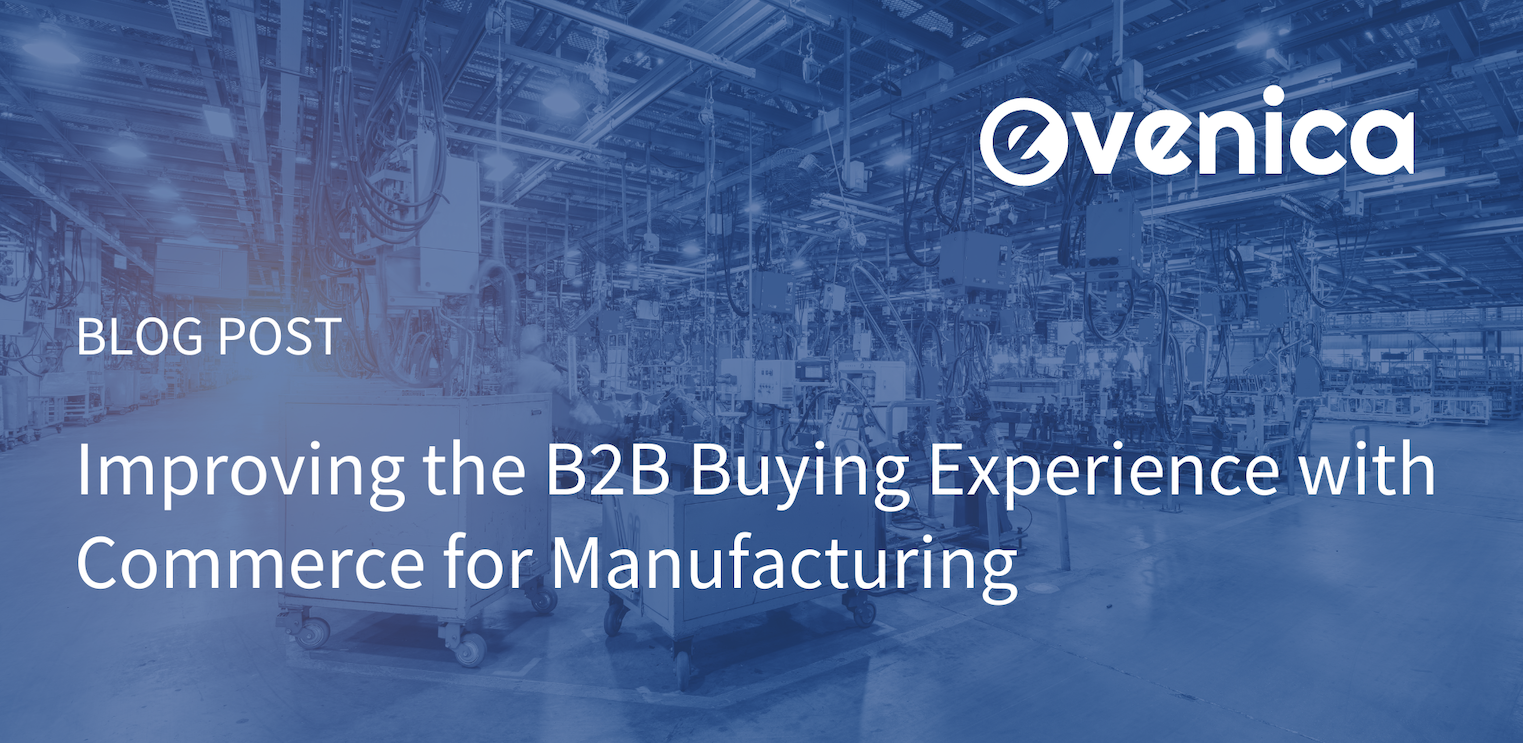 Even as in-person events and retail stores regain foot traffic, business continues to move online – even in traditional industries like manufacturing. Over the last couple of years in particular, manufacturers saw a steep increase in sales through digital channels, signalling that B2B buyers are ready for a B2C-style experience throughout their procurement process. This creates many opportunities for manufacturers to rethink how they do business and embrace e-commerce solutions that will accelerate their growth.
In particular, Microsoft Cloud for Manufacturing offers manufacturers an integrated solution that can support multiple facets of the business. In addition to enhancing factory operations with intelligent analysis of inventory levels and production performance, Cloud for Manufacturing can link seamlessly with an e-commerce solution such as Dynamics 365 Commerce, providing you with full visibility into every aspect of your business. Your customers will also benefit from an easier buying experience.
A Seamless Ordering Experience
Lillian was a new procurement specialist for a mid-sized furniture wholesaler, and was browsing through some manufacturer websites when she heard a soft "ding".

A glance at her browser indicated that the tab of a bedroom furniture manufacturer had just played a noise. She clicked to investigate, and found a chat window open.

"Have any questions? I'm here to help!"

After checking her notes for a second, Lillian realized she did have a question about warranties, so she typed that into the chat box. Within seconds, she was connected with a salesperson to talk more.
An integrated e-commerce solution developed specifically for your customers can support your sales funnel in many ways. Customers at the very beginning of their process will appreciate access to a live chat feature and the self-serve options now standard in the e-commerce space, all of which can be integrated with a CRM.  Later on in the ordering process, salespeople can make use of intelligent suggestions from the system to tailor their approach to each client.
It is estimated that the majority of B2B buyers now make use of e-commerce portals during their procurement process, and that half feel like the interfaces and experiences they are being offered could use an improvement. Making sure your ecommerce portals are error-free, intuitive to navigate, and offer value to the buyer journey should be a top priority.
ERP Integration
"Based on your order history, you go through about a dozen XFR0's every month," Bruce said. If you run out, does that mean you're suffering downtime?

Bruce's client, the procurement manager for a mid-sized factory, paused and thought about it. "Yeah, that part is mission-critical for us," he replied. "Perhaps I'll get another ten when I place this month's order."

Bruce glanced at his computer, and clicked on a button to check something. "Hm. Make sure you do that today or tomorrow," he said, "Since our inventory is getting low. We'll have more for sale in two weeks."
Not only is it possible to integrate your ecommerce solution with your CRM, which allows you to track customer behavior, you can also link to your ERP solution to provide visibility into your inventory levels, future production, and more. By doing this, you allow both your salespeople and your customers to access real-time information about the products they are purchasing, creating more informed conversations and gently nudging customers to buy now rather than later.
Using a cloud-based solutions like Cloud for Manufacturing allows your business to become fully integrated by linking sales, marketing, operations, and service together with powerful databases and helpful apps. This not only provides your customers with a tailored experience, but gives your senior leaders the visibility they need to make effective and informed choices.
Differentiating Through Technology
Evenica has developed integrated e-commerce solutions for manufacturers in many different industries, helping our clients deliver sophisticated customer experiences across digital and traditional channels. We specialize in offering custom Microsoft solutions and also offer our own e4Commerce solution.